Are you gearing up for your own Super Bowl celebration at home this Sunday? From killer chicken wings to over-the-top guac, dips and desserts, these top Super Bowl food picks will help you win the party on game day.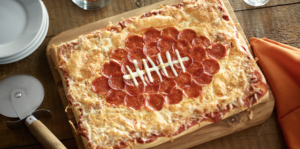 Mains: Not sure what mains to serve up at your Super Bowl Party? With a little bit of planning, these crowd-pleasing dishes will have your guests standing up and cheering in no time. Click on the below links to view each recipe.
Buffalo Chicken Wings: Did you know that chicken wings are the MVP of the Super Bowl? According to the National Chicken Council's Annual Chicken Wing Report, Americans are expected to eat a record-breaking 1.4 billion wings this year…that's 27 million more wings than at last year's game. So it's fitting to have a killer wing recipe this year. Try out these easy yet delicious Buffalo Wings.
Ribs: These saucy, fall-off-the-bone ribs are fit for a Super Bowl feast!
Chili: Need a halftime pick-me-up? This award-winning chili is just what you need! Serve with a homemade cornbread for the ultimate pairing.
Mac & Cheese Bites: With endless food options, plates can quickly pile up at Super Bowl parties. These bite sized Mac & Cheese bites allow your guests to enjoy all the tastings with enough room for dessert.
Mini Meatball Subs: Meatball subs are another Super Bowl favorite. Enjoy them on a smaller scale here.
Tater Tot Nachos: This fun app is a mixture between classic nachos and loaded potato skins…AKA everything you need to enjoy Super Bowl Sunday.
"Pigskins" in a Blanket: "Pigskins" are your traditional pigs in a blanket but with a game day twist! Click here to view the recipe.
Football Pepperoni Pizza: This football pepperoni pizza is a fun idea for people of all ages to enjoy!
Beer & Cheese Pretzel Bites: Beer and cheese pretzel bites anyone? Get your hands on them here.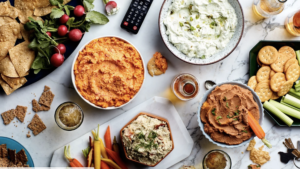 Pass The Dip: Get your chips ready because Sunday is chip-dipping day! See what delicious dips made the cut below.
Guacamole: Pass the guac? California-based Has Avocado Board predicts that 153 million pounds of avocados will be eaten this Super Bowl Sunday. Here's one of our favorite guac recipes.
Buffalo Chicken Dip: Fun Fact: According to a new report from Google, Buffalo Chicken Dip is the most searched game day recipe since 2004. Wow guests with this recipe.
Slow Cooker Queso: In queso you're wondering what other dips to serve at your party, we're just going to throw this recipe your way…
Spinach and Artichoke Dip: This cheesy warm dip will have guests replaying their last bite.
Super Bowl Party Veggie Tray: With all of the heavy foods available on Super Bowl Sunday, it's a good idea to stock up on some fresh veggies with some ranch dip. Click here for some inspiration.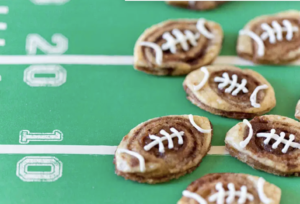 Final Food Touch Down:
Peanut Butter Football Cookies: These peanut butter and chocolate football cookies will be a hit at your party.
Touchdown Brownies: Rich, chocolate brownies in the shape of a football? It's a win-win! Get the recipe here.
Stuffed Super Bowl Cupcakes: Add an element of surprise with these stuffed super bowl cupcakes! Add opposing team colors as the filling.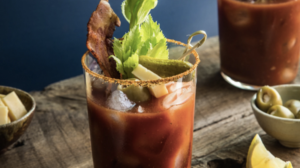 Ready…Set…Break (for Drinks): You may already be stocked up on beer and cocktail essentials but I have a few fun Super Bowl-inspired drinks that you may want to try out as well.
Touchdown Punch: Your team scored and it's time to celebrate! Click here for this winning drink recipe.
Dilly Dilly Drink: Get the party started and raise your glass with this Dilly Dilly drink!
The Michelada: This beer cocktail is sure to be a huge hit. Get the recipe here.
Sparkling Strawberry Punch (Non-Alcoholic): Trying to keep the dry January train moving into February? This sparkling strawberry punch should help you stay on track!
Do you have any favorite Super Bowl snacks or recipes of your own? Let me know in the comments section below!