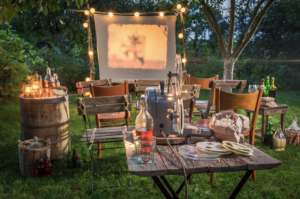 A backyard is a place of sanctuary and recreation. Whether you want to relax, play in a pool, or have a barbecue with friends, there are many ways to enhance your backyard experience. Here are a few items you can add to your home's outdoor space to make it even more enjoyable.
1. As if beanbags couldn't get any cooler. Now there are some that float.
2. What happens when a picnic table and a Transformer fall in love?
3. Kids love zippin around the yard. Goes great with a tree house.
4. Yard a bit small? Try out a microbar.
5. A daybed lounger with storage is a great way to combine comfort and convenience. It's a DIY project.
6. Ping pong in the pool is the way to get your summer game on.
7. Have wild kids? Here's a trampoline you can feel safe with.
8. If you want kids to rave over your projections screen, grab one that is Disney themed.
9. Canopy chairs add style to seating.
10. Want an aviary or chicken coop? Tired of the same old designs? Going geodesic is the way.
12. A trampoline tent is the perfect combo for children (big and small) that want to camp out in the yard.
13. Add an extra element to your yard with a man made stream.
15. The "Cocoon" is a like a hammock that doubles as a tent.
16. Make a fire pit more comfy with a four way swing set.
17. Want the warm lighting of a fire, but not the heat? A glass encased fire pit is perfect for those warm Summer nights.
18. Accent any good barbecue with cooler tables.
19. Sometimes you just need to sleep outdoors in comfort. A cushy tent will do you right.
20. Inflatable twister gives all the fun, without the bruised knees.
21. Love the sound of rain? A copper rain shower will keep you relaxed on the sunniest of days.
22. Speaking of sunniest days, this hammock solution works great in backyards without a canopy of trees to shade you.
23. A pool shower. Because there are never enough ways to get wet when it's hot outside.
24. Communal hammocks are a great way to relax together after the backyard games.