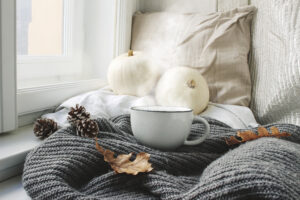 Autumn is here! And while fall is always a cozy time, this year, coziness has officially emerged as one of the biggest interior design trends of the autumn season.
A recent article from remodeling website Houzz highlighted the biggest trends from the 2020 Atlanta Furnishings Market—including cozy decor and design. Things like camping-inspired pillows, plush throw blankets, and earth tones were definite players at this year's market…which makes sense…
As people anticipate spending more time in their homes than usual this fall and winter, there is a desire to make their spaces as comfortable and inviting as possible—making cozy design the go-to trend as we move into the last few months of the year.
So, what does this mean for you? If you're thinking about doing a bit of redecorating to get your home ready for the fall, make sure you're on trend (and super comfortable!) by embracing all-things-cozy in your decor and home design.