Eugene Bostick and his brother Corky have shared a farm on a dead-end road in Fort Worth, Texas since the 1940's. Over the recent years, a lot of people have dropped off stray dogs in the area. Somehow, many of them find their way to the Bostick farm, looking for a home with a warm heart. Fortunately, they found it!
Not only have the lucky pups been provided food and room to run, they also get a treat that very few will ever have the chance to experience.
They get to go out on the town in a train!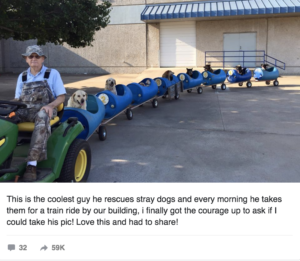 This gold-hearted man decided he could create a doggie transport by mimicking something he saw being used to transport rocks.
With some plastic barrels, metal framing, wheels and a tractor, these happy doggies are gettin' along in style.
They get so excited about it, they jump in as soon as they hear Eugene hooking up the tractor, and stay in for the duration of the ride!
These little guys must feel like they're in a parade. Now check out the video below to see this "chew chew" train in action!